Double Shot, formed in 2015, performs variety of music with colourful mixture of percussion instruments, based around 2 marimbas. The contrast and combination of the dynamic performance and mellow resonance will effectively thrill the audience. The repertoire includes not only original works for percussion but also arranged works from well-known composers. The transcriptions are carefully chosen and arranged by the performers, with respect to the original composition, while using the wide capability of percussion instruments.
from CMNZ Encompass concert tour 2016
Tango suite I, II & III by Astor Piazzolla
Tangos by various artists, Wooden Music by Rich O'Meara
Marimba Spiritual (DUO version) by Minoru Miki
Using a range of percussion instruments, their outstanding performances create a colourful world of sound and highlight the dynamic, playful, sensitive, musical and artistic possibilities of classical percussion.
They toured with Chamber Music New Zealand in 2016, receiving enthusiastic audience responses at every performance.
"…showing the absolute togetherness and communication of the Duo present throughout the programme."
"…the softest of pianissimos, totally captivating the audience."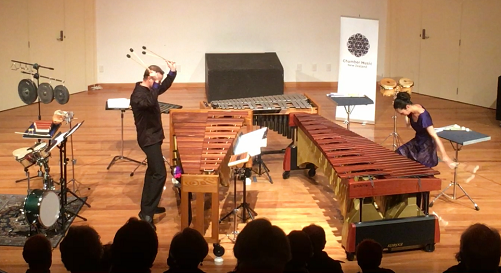 Jeremy Fitzsimons is principal percussionist for the Orchestra Wellington, has played regularly with the NZSO since 1993, and has been freelancing in Wellington for the last 20 years. He has recorded CDs of marimba and percussion music by Gareth Farr and John Psathas, toured as marimbist with Chamber Music NZ, and was a founding member of Strike Percussion and Gareth Farr's Drumdrag. Recent projects include being a guest soloist at a marimba festival in Portugal, ensemble soloist with the APO and percussionist with the Pink Floyd Experience. A 1996 Fulbright Scholar, Jeremy has a Bachelor of Music with first class honours from Victoria University of Wellington as well as a Masters and an Advanced Performance Certificate from Northwestern University in Chicago where he studied with Michael Burritt and James Ross. He is a graduate of the Leigh Howard Stevens International Marimba Seminar in New Jersey and the Music Academy of the West in California.
After relocating to New Zealand in 2004, she graduated from the New Zealand School of Music in Wellington. She moved to Austria and has completed her Master's Degree (1st Class) at the Anton Bruckner Privatuniversität in Linz. Yoshiko has won several prizes both in Japan and New Zealand, including the 1st prizes in both the New Zealand School of Music Concerto Competition and the New Zealand National Concerto Competition. Also she reached the semi-final of the International Marimba Competition in Salzburg and 2nd prize at the International Australian Marimba Compeititon. As a soloist, Yoshiko has performed in several concertos on marimba with different orchestras, including Christchurch Symphony Orchestra. Since returning from Europe, Yoshiko gives solo and chamber music performance on her 5+2/3 octave Marimba (low A), while giving focus on arranging new repertoire for marimba. She is currently the timpanist of Opus Orchestra.