The Rata Trio is an unusual and dynamic ensemble, comprising saxophone, bass clarinet and marimba.
The group's last tour of Northland (also taking in Tauranga and Auckland) presented a dramatic programme of music including
an adaptation (especially for this combination) of Mussorgsky's famous "Pictures at an Exhibition".
Rata Trio Concert 2015 "PICTURES"
"WHAT a super concert yesterday. I can't tell you how much I enjoyed the unusual combination and the sound world they had created…"
"…the energy and intensity of the music and performance was amazing…"
"I just love the sound world that the three of you have created – dense, complex, evolving, playful and evocative! Great stuff!.."
"I knew of course that you are all good players, but was especially impressed with the arranging. The Rachmaninov and Mussorgsky worked particularly well, I thought…"
"The playing was superb…"
Michael studied at Victoria University and Massey Universities in Wellington, as well as the Messiaen Academy in The Netherlands and the Conservatoire National de Région de Strasbourg in France, completing his Masters in 2007.
Since then, he has been in demand as an orchestral and chamber musician, regularly working with such groups as the NZSO, Auckland Philharmonia, Radio Chamber Orchestra (NL), Rotterdam Philharmonic, Netherlands Symphony Orchestra, The Royal Concertgebouw Orchestra, Eclecta (modern music ensemble) and Hanumi Saxophone Quartet.
Michael is the saxophone teacher at Auckland University and is a D'Addario Woodwinds performing artist.
Justus has studied bass clarinet at the New Zealand School of Music in Wellington.
He frequently performed in the Wellington area, in particular championing contemporary music, playing which he can often be heard on NZ radio.
Since moving up North, he has been performing chamber music, and plays regularly with Opus Orchestra.
He is also active as a conductor (as Music Director of the Bay of Plenty Symphonia, and as guest conductor with e.g. St Matthews Chamber Orchestra in Auckland), and performs on violin and viola.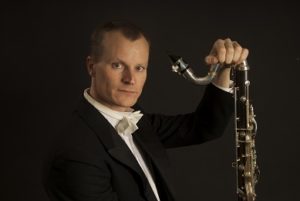 After graduating from the New Zealand School of Music in Wellington, Yoshiko moved to Austria and has completed her Master's Degree (1st Class) at the Anton Bruckner Privatuniversität in Linz.
Yoshiko has won several prizes both in Japan and New Zealand, including the 1st prizes in both the NZSM and the National Concerto Competition. Also she reached the semi-final of the International Marimba Competition in Salzburg and 2nd prize for the International Australian Marimba Competition.
As a soloist, Yoshiko has performed in several concertos on marimba with different orchestras, including Christchurch Symphony Orchestra.
Since returning from Europe, Yoshiko gives solo and chamber music performance on her 5+2/3 octave Marimba, while giving focus on arranging new repertoire for marimba. She is currently the timpanist of Opus Orchestra.